Surge suppressors are used to protect circuits from transients (sudden, brief increases in voltage). Transients of widely varying magnitudes are caused by such circuit components as motors, coils, magnets, relays, and transformers. They are found in all electrical systems and they are notorious for damaging diodes, SCR's, transformers, triacs, and relay contacts.
Surge suppressors can be connected across individual components, parts of circuits, or the supply to an entire circuit. When the voltage is normal, they are in an "off" state and do nothing. However, when a transient raises the voltage, they react very quickly and conduct the excess around the components they protect. When the transient has passed, they return to their normal "off" state.
It is cheaper to use surge suppressors than it is to buy new components or have equipment out of service. Surge suppressors are cheap insurance.
Surge suppressors can be polar (for direct current circuits) or non-polar (for alternating current circuits). The schematic symbols are:


Surge suppressors can be used in several ways and in a variety of circuits. The following are examples of typical installations.




Small Superior surge suppressors are metal oxide varistors (MOV's). Because of their compact configuration (they look like capacitors) they are ideal for use with encapsulated assemblies and in other installations where space is tight. Large Superior surge suppressors are assembled from high-quality selenium cells. These suppressors are characterized by extremely smooth operation-they pass increasing amounts of current as the voltage increases without the sudden changes that tend to typify other types of surge suppressors. They have a high shunt capacitance (0.05 LFD per square inch). And they react faster and have higher wattage capability than silicon suppressors at less cost.
Power consumption is minimal until the steady state voltage is exceeded.
For voltages greater than 15 volts, selenium surge suppressors use the reverse characteristic. For direct current voltages, one cell is used for each 22 volts. For low alternating current voltages (up to 25 volts), two cells are used back to back. Cells are assembled in series for voltage blocking and in parallel for current rating.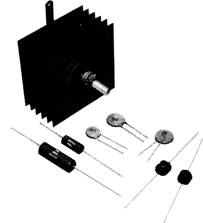 Like other assemblies, selecting and specifiying surge suppressors involves a lot of detail and SUPERIOR INDUCTION uses assembly numbers to aid in this process. You can used this system, along with the ordering instructions, as an aid to selecting surge suppressors or you can call SUPERIOR INDUCTION and we will assist you.
In the following, after the ordering instructions and MOV list, the Selenium Surge Suppressor Assembly Numbers chart shows the variables involved in specifying surge suppressors and provides a means of decoding SUPERIOR INDUCTION surge-suppressor numbers. The Selenium Surge Suppressor Cell Specifications chart provides details on the various cells and is referenced in column 2 of the Selenium Surge Suppressor Assembly Number chart. And finally, examples of SUPERIOR INDUCTION 115-volt and 230-volt, direct current (polar) and alternating current (non-polar) surge suppressors are listed in the Typical Surge Suppressors chart
SURGE SUPPRESSOR ORDERING INSTRUCTIONS
You should collect the following information before you call about surge suppressors:
Will the suppressor be operating - an alternating or direct current circuit-,
How much current is required to swamp out transients (how much current will the surge suppressor be required to conduct)? Note: Surge suppressor cells can be circuited in parallel to achieve high current ratings
If you are unable to make these determinations, call and we will help you.
SELENIUM SURGE SUPPRESSOR ASSEMBLY NUMBERS
Read the lists in the columns vertically  there are no horizontal relationship in this chart.
| 1 | 2* | 3 | 4 | 5 | 6 | 7 | 8 | 9 |
| --- | --- | --- | --- | --- | --- | --- | --- | --- |
| S indicates surge suppressors | Cell | Cell | Type of | Series | Type | Mounting | Parallel | Clamping |
| | Series | Volt. | Circuit | Cells | Finish | | Cells | Factor |
| | | | | | | | | |
| | D | 25 Volts is standard | HX 1 Phase Polar | 1 or | E | B-Bracket | 1 or | A-2.4 X AC |
| | F | | XX 1 Phase Non-Polar | More | Std | 17-42 Cells | More | RMS Voltage |
| | G | | BX 1 Phase Bridge | | | N-Stud | | |
| | A | | D 1 Phase Doubler | | | 1-16 Cells | | |
| | C | | YX 3 Phase Half Wave | | | C-Bolt | | |
| | E | | ZX 3 Phase Bridge | | | PP-Phenolic | | |
| | K | | | | | VP-Vinyl Plastic | | |
| | M | | | | | | | |
| | S | | | | | | | |
| EXAMPLE OF S E 25 XX 5 E C 1 A | | | | | | | | |
| SUPPRESSOR NUMBER | | | | | | | | |
PART No.                          VOLTS
A130K20                                 115 
A250K20                                 230
A480K40                                 460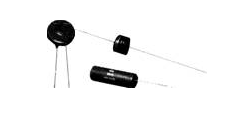 SELENIUM SURGE SUPPRESSOR CELL SPECIFICATIONS
(See column 2 in the Surge Suppressor Coding Chart)
| CELL SERIES | CELL SIZE | CELL- IT RATING(Amps @ 55 C) | STUD SIZE |
| --- | --- | --- | --- |
| D | 1/4"Dia | 0.23 | - |
| F | 3/8"Dia. | 0.46 | - |
| G | 1/2 Dia. | 1 | - |
| A | 1"x1" | 3 | 8/32 |
| C | 1 1/2"x 1 1/2" | 9 | 10/32 |
| E | 2"x 2" | 15 | 1/4-28 |
| K | 3"x 3" | 37 | 3/8-16 |
| M | 4"x 4" | 70 | 3/8-16 |
| S | 5"x 6" | 130 | 3/8-16 |
TYPICAL SURGE SUPPRESSORS

| CURRENT RATING�� 10 ms | 115 VOLT | | 230 VOLT | |
| --- | --- | --- | --- | --- |
| | POLAR | NON-POLAR | POLAR� | NON-POLAR |
| 230 A | SD25HX5PPA | SD25XX5PPA | SD25HX10PPA | SD25XX10PPA |
| .460 A | SF25HX5PPA | SF25XX5PPA | SF25HX10PPA | SF25XX10PPA |
| 1.0 A | SG25HX5PPA | SG25XX5PPA | SG25HX10PPA | SG25XX10PPA |
| 3.0 A | SA25HX5ECIA | SA25XX5E1A | SA25HX10EC1A | SA25XX10EB1A |
| 9.0 A | SX2CHX5EC1A | SC25XX5E1A | SC25HX10EC1A | SC25XX10EB1A |
| 15.0 A | SE25HX5E1A | SE25XX5EC1A | SE25HX10EC1A | SE25XX10EB1A |
| 37.0 A | SK25HX5E1A | SK25XX5EC1A | SK25HX10EC1A | SK25XX10EB1A |
| 70.0 A | SM25HX5EC1A | SM25XX5EB1A | SM25HX10EB1A | SM25XX10EB1A |
| 130.0 A | SS25HX5EC1A | SS25XX5EB1A | SS25HX10EB1A | SS25XX10EB1A |